BlueWolf Photography is a privately owned business run and managed by Lynne Jones. The company is based in the east end of Toronto.
Lynne was born in South Shields in the North East of England. She has been a Canadian citizen since 1997. She became interested in photography at the age of 11 when she was given a Kodak Instamatic. Instilled with a sense of adventure by her parents (thanks, Mam and Dad), one of her earliest spectacular photographs with this camera was of a waterfall in the Lake District - shortly after getting the shot, Lynne and the camera both fell and followed the water down the hill from Lynne's precarious vantage point. Both survived the fall and were none the worse for wear - and she got the shot....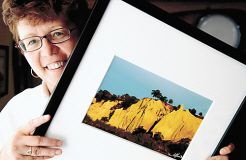 Lynne has integrated her arts background (BA Hons Geography, Leeds University) with a love of travel and a passion for fine arts. Her work history in the technology field has given her the opportunity to explore new technical areas in the digital age and is a natural link with her ongoing enthusiasm for photography in all its forms. Lynne loves the art of creating images, no matter what the subject.
Her work has been published in several magazines in the UK, most notably Travel Photography magazine, and has been used to promote several juried shows in Canada. Most recently, she won First Prize in the Markham Council 2006 Photo Contest, the Professional Wildlife category, with her shot of a blue heron with a trout in its mouth in Berzcy Park in Markham. Her work was featured in the Scarborough Mirror in August 2006.
This website offers an on-line catalog of Lynne's work as stock and fine art images. Photos are offered for sale either as framed or unframed prints. They are also available as boxes of 20 notecards. Please contact Lynne for more information.
Lynne exhibits her work at juried art shows in Toronto and across Ontario, including the One of a Kind show.Contact Lynne directly in the Toronto and Ontario region if you wish to see her work up close and personal.